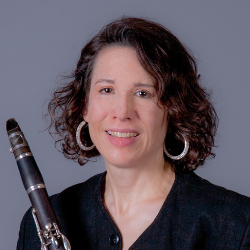 Prof. Rebecca Rischin
Since winning first place at the First International Clarinet Competition in Kraków, Poland in 1994, Rebecca Rischin has established an international reputation as a performer, pedagogue and author.  She has performed throughout Europe, Canada, South America, and the United States, including at Carnegie Hall, where her solo debut recital in March 2014 was met with a standing ovation. Her two solo compact discs for Centaur Records, Clarinet Fantasies (2017) and One of a Kind (2009) have received critical acclaim.
Rischin is currently Professor of Clarinet and Woodwind Division Chair at Ohio University, where she received the 2002 College of Fine Arts Outstanding Teacher Award.  Her ground-breaking book, For the End of Time: The Story of the Messiaen Quartet  (Cornell University Press, 2003; 2006) is considered the definitive work on the subject.  It is now out in French, Japanese, Chinese, Italian, and in paperback and has been adapted into a screenplay to be made into a motion picture: "By turns moving, astonishing, challenging and funny, it is a story that deserves to be heard. Strongly recommended."— BBC Music Magazine. "The clarinetist Rebecca Rischin has written a captivating book…her research dispels several long-cherished myths about the 1941 première…Rischin lovingly brings to life the other musicians…who played with Messiaen, the pianist at the première." — The New Yorker.
A native of San Francisco, Rischin holds the Bachelor of Arts, cum laude and Master of Music degrees from Yale University, the Doctor of Music degree from Florida State University, and the performance Diplôme from the Ecole Normale de Musique de Paris, where she studied under the auspices of a Harriet Hale Woolley grant, awarded in 1993 to only two other visual and performing artists in the United States.