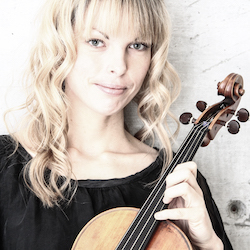 Emilie Hörnlund
Emilie was born in Goteborg, Sweden. Formally a member of the Royal Philharmonic Orchestra, Emilie has held the position of Principal Viola at the Swedish Royal Opera since 2010. Emilie works with many other leading orchestras in the UK and Sweden, including BBC Philharmonic, London Chamber Orchestra, English Chamber Orchestra, Philharmonia Orchestra, Orchestra of the Age of Enlightenment, Swedish Radio Symphony Orchestra and Kungliga Filharmonikerna Stockholm.
In 2006 Emilie became the first viola player to reach the final of the Ljunggrenska Tavlingen (Swedish Soloist Competition) in Sweden.
Emilie studied at the Falun Music Conservatory, Guildhall School of Music and the Royal College of Music with teachers including Jack Glickman, David Takeno Andriy Viytovych.
She also studied baroque viola with Annette Isserlis.