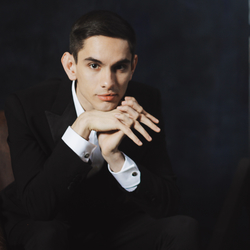 Dmitry Shishkin
Dmitry Shishkin is a Russian pianist. In November 2018, Shishkin won the 1st Prize at the 73rd Geneva International Music Competition, where he performed with Orchestre de la Suisse Romande. He is critically acclaimed by the international press, which highlights his creative approach to music, his individuality and his brilliant piano skills: "In Shishkin's playing we can hear both excellence and playfulness".
"Listening to his playing again and again, I find it as one famous German publisher (S. Fischer – publisher of Thomas Mann) liked to describe when speaking of manuscripts – as charm: It is either there or not. Shishkin's charm is primarily in his performing individuality. It is transmitted in all aspects of his playing: in the sound and its colours, in handling the pedal bringing out even more colours and at the same time transparency, in its natural phrasing, in its rubato – light and poetic." (Pianist Boris Bloch)
Born in Chelyabinsk, in Siberia, Shishkin demonstrated exceptional talent for the piano at a very young age, performing his first piano recital at the age of three and first concert with orchestra at the age of six. Three years later he entered the prestigious Gnessin Moscow School of Music for gifted children then the Moscow Tchaikovsky Conservatory. Currently, he continues his studies in Sicily at the "Vincenzo Bellini" State Conservatory in Catania, and in Hannover at Musikhochschule.
From a very young age, Dmitry Shishkin won many prizes at competitions, received awards, and scholarships, both in Russia and abroad. He is prize-winner of renowned competitions, such as Busoni in Bolzano (3rd Prize in 2013), Rio de Janeiro (2nd Prize in 2014), Chopin in Warsaw (6th Prize in 2015) and Queen Elisabeth in Brussels (Finalist). He is also 1st Prize winner of the Top of the World Competition in Tromsø (2017).
Dmitry is performing all around the world. He collaborates with orchestras such as the State Academic Symphony Orchestra of the Russia ('Svetlanov Orchestra'), Russian National Orchestra (conductor: Mikhail Pletnev), Tchaikovsky Symphony Orchestra (conductor: Vladimir Fedoseev), Warsaw Philharmonic Orchestra, National Orchestra of Belgium (conductor: Marin Alsop), Staatskapelle Weimar, Orchestre de la Suisse Romande among others. Dmitry's concert schedule includes performances at the festivals such as Dubrovnik Summer Festival, Chopin and his Europe Festival, Brescia Bergamo Music Festival, etc.