Essay by Krzysztof Chorzelski on Bachtrack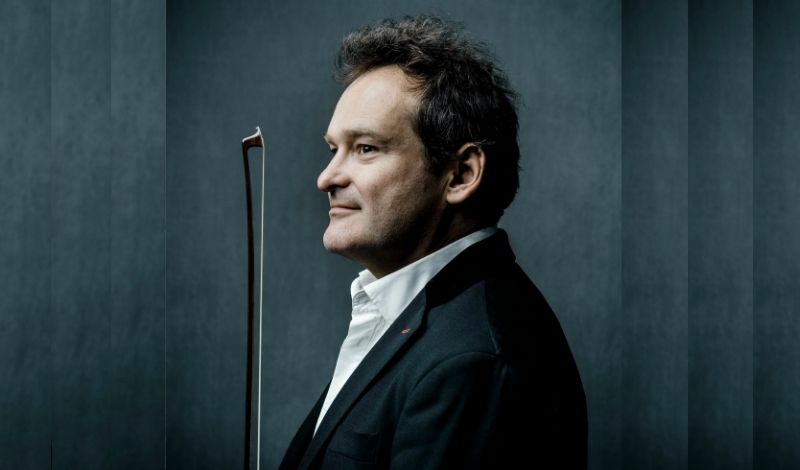 Beethoven 250: Krzysztof Chorzelski on scaling the Himalayan heights of the string quartets
貝多芬250:克里斯多夫.赫爾徹斯基談登弦樂四重奏喜瑪拉雅之巔
By Krzysztof Chorzelski
文:克里斯多夫.赫爾徹斯基
The long-awaited year has arrived. It is 2020 and we, the Belcea Quartet, are devoting it exclusively to the man whose music moves, challenges, provokes and inspires us more than anyone else's. For us Beethoven is an all-consuming passion. He is the prime reason why we are a string quartet.
期待已久的一年經已到來。貝爾琪亞四重奏將把2020年獻給一位作曲家。他的作品比任何人的音樂都要扣人心弦,充滿挑戰,燃起激情,鼓舞人心。貝多芬是我們的最愛。我們願意為他傾盡心力。沒有貝多芬,就沒有我們這個弦樂四重奏。
For each one of us, hearing a Beethoven quartet for the first time was a turning point. Nowadays, many years later, we exchange strikingly similar stories about how we sleepwalked through our teenage lives bingeing on Beethoven in our headphones (we are, after all, the "Walkman" generation).
第一次聽到貝多芬的弦樂四重奏,是我們每一位成員的人生轉捩點。如今許多年後,我們分享彼此的經歷,發現驚人地相似。大家年輕時都戴著耳筒狂聽貝多芬(畢竟我們是「隨身聽世代」),然後不知不覺間,青春已逝。
I remember discovering Op. 131 for the first time in the Alban Berg Quartet's EMI recording. To me, it felt so human, so sorrowful, bizarre, tender and heroic, that listening to it became the most powerful contemplation of human life. Many years later I discovered from Antoine, our cellist, that hearing this very same piece is what gave him the imperative to one day become a string quartet player.
記憶中,我是在阿班貝爾格四重奏的百代唱片中,首次發現作品131。初聽此曲,我感到它充滿著人性,瀰漫著愁意,怪誕不凡,既柔情似水,又充滿英雄氣概,讓我覺得聆聽這音樂就是在極盡深入地思考人生。許多年後,我們的大提琴手安東尼告訴我,正正是這首作品讓他立志成為一個弦樂四重奏樂手。
The first time we performed and recorded Beethoven's complete string quartet cycle was eight years ago, and I remember the sort of dizziness we felt when that season was drawing to a close. I don't know if there is any actual parallel but it seems to me, from what I have read, that a similar feeling accompanies mountaineers scaling the Himalayan heights: a sense of profound self-discovery arising from overcoming a titanic challenge that combines with the breathtaking scenery and the rarefied air into a sort of ecstasy.
我們第一次演奏和灌錄貝多芬弦樂四重奏全集,是在八年前,我還記得樂季臨近尾聲時那頭昏腦脹的感覺。我不知道有甚麼可以確切地與之比擬,但就我所讀過的記載來看,攀山者登上喜瑪拉雅山峰時,似乎會有相似的感覺──完成艱巨挑戰時那重大的自我發現,加上令人屏息的美景和稀薄的空氣,讓人欣喜若狂。
It is no wonder that since then we couldn't wait to repeat this experience. Eight years ago we were intoxicated by Beethoven's emotional charge. We relished the challenge of reading these scores in a way that would best express all those extreme emotions. We loved the cortège of bizarre characters leaping from the quartets' pages: the humorous, the terrifying, the mysterious, the surreal. We spent hours discussing them and trying out different ways of capturing them. Already in the early Op. 18 quartets (the Adagio affetuoso ed appassionato from Op. 18/1 and La Malinconia from the Op. 18/6), through to the earthquake of the opening of Op. 95, Beethoven ventures into uncharted territory: emotional states so intensely personal and disturbing that only an equally personal response seemed appropriate to us.
難怪我們會迫不及待想再一次體驗那種感覺。八年前,我們沉醉於貝多芬的強烈情感。我們享受詮釋樂譜時的挑戰,盡力用最好的方式表達所有極端情緒。我們喜歡那些躍然譜上的怪異角色的行進行列:諧趣的、駭人的、神秘的、超現實的。我們會花上好幾個小時討論他們,並嘗試用不同方式表現他們。早在前期的作品18(作品18/1第二樂章「親切而熱情的慢板」與作品18/6第四樂章「抑鬱」),到作品95地震般的開首,貝多芬一直在探索未知的領域:個性強烈且令人不安的情感,讓我們覺得唯有給予同樣充滿個性的回應,才算恰當。
There were times when, after many different attempts, we would come to the conclusion that our understanding of the notation was simply too literal to do justice to the content, and that reading Beethoven's score must go beyond "the dots on the page". One notable example was the closing gesture of the Große Fuge – the monumental voyage from the brink of chaos and violence to the final triumph of the greatest of human spirits. A mere crotchet chord at the end of it felt weak and "unworthy" on the first edit of our recording. After many further discussions and trials we decided to return just to that final gesture on our next visit to the studio (dedicated to a different part of the cycle), and to give it more space and breadth than before. It felt like a good solution at the time. How will it feel when we revisit the work this time around? We are about to find out…
有好幾次,我們嘗試了很多不同詮釋方法後,發現我們實在太照本宣科,無法充分表現音樂的內容,要理解貝多芬的樂譜,不可只看「豆豉」。〈大賦格〉的結尾是一個很好的例子。那個結尾表達的,是那即將陷入暴亂的世界中,隨著時代巨輪轉動,至高無上的人文精神最終獲勝。我們錄的第一個版本,最後結尾的四分音和弦太軟弱無力,不甚「到位」。經過多番討論和試驗,我們決定之後去錄音室灌錄另一首貝多芬四重奏時,把那結尾重新錄一遍,讓它更壯闊一些。那時覺得效果不錯。不知現在重拾此曲,感覺又會如何?我們很快就會知道。
Op. 130 (when crowned with the original final movement Große Fuge) is a particularly striking example of Beethoven's determination to break all boundaries in search of his innermost truth. It seems to be a deliberate exercise in disunity, each successive movement lying more and more uncomfortably next to its neighbours, forming a sort of "unruly suite". But none of these awkwardnesses prepare us for what is to come after the sublime Cavatina exhales its final breath: the nuclear explosion of the Große Fuge. A few years ago we decided to come up with our own response to this, perhaps the wildest of all of Beethoven's provocations, by creating a programme entitled "Beethoven in mysterious company". We interspersed in it all the movements of Op. 130 with music by other composers, somehow seen by us as relevant. Our audiences were not given the details of these additional pieces until after the full performance (lasting about an hour and a half) was finished. The music added by us to Beethoven's quartet was written long after his time, some of it very recently. Both musical trails were meant to serve as mirrors reflecting each other. And yet I strongly believe that each time the Große Fuge arrived at the end of the concert it resonated as the most avant-garde statement of the whole evening.
作品130(以畫龍點睛的〈大賦格〉作最終樂章的原作)特別鮮明地體現了貝多芬決意打破一切常規,探究自己內心最深處的真實想法。貝多芬好像在特地練習寫作散漫無章的音樂,把一個比一個更鑿枘不投的樂章拼湊成一套「不羈的組曲」。但這些彆扭的感覺都不足以讓我們預視到,壯美的短曲呼出最後一口氣後,〈大賦格〉的核爆。數年前,為了回應這可能是貝多芬最瘋狂的挑釁,我們決定推出一個節目,命名為「貝多芬與他的神秘同路人」。節目中挑選了一些我們認為跟貝多芬有著某種關聯的作曲家,在作品130的各個樂章之間,演奏他們的音樂,待整個表演(約一小時半)結束,才向觀眾介紹這些附加作品。加插在這四重奏的樂曲,都是貝多芬之後的作曲家所寫,且年代相去甚遠,有些更非常近代。我們希望這兩條音樂小徑上的風景可以像鏡子般互相映照。但我確信,每次〈大賦格〉大軸登場,它的前衞之音都壓倒全場,縈繞樑間。
As a side note I might add that during my adolescence I seem to have more or less missed out on the teenage rebellion phase. This deficit was well and truly taken care of each time we sat down to perform the Große Fuge!
順帶一提,我年輕時好像沒怎麼經歷過叛逆期。每次我們坐下演奏〈大賦格〉時,這缺失都能完善確切地補足!
Now, as we are well into the process of bringing these works back to our lives, I ask myself how our vision of them is changing with time. Broadly speaking, I have a feeling that we are becoming more aware of the architecture containing all the emotions that we love so much in these pieces.
如今這些作品一一回歸我們的生活,我問自己,斗轉星移之間,我們對這些樂曲的看法有什麼改變。大概而言,我認為我們更加了解樂曲的結構,了解它如何將那些我們喜愛的情感凝聚起來。
A good example of this new direction is the Heiliger Dankgesang from Op. 132 – Beethoven's contemplation of the Divine. An aspect of it that reveals itself to us this time more than ever before is the transfiguration of the thanksgiving chorale throughout its two consequent reincarnations. In the first one, the cantus firmus floats away into the stratosphere while the other voices whisper to each other in quiet awe. In its final appearance it is joined by them in a counterpoint of otherworldly serenity. Becoming aware of this transformation brings us closer to this piece and its sublime depiction of the relationship between man and the Divine.
要解釋這個新的詮釋方向,作品132中的〈痊癒者的感恩頌〉是絕佳例子。此曲是貝多芬對「神聖」的沉思。我們比以往更留心感恩頌兩次回歸時的變化。第一次回歸時,「定旋律」飄入平流層之際,其他聲部都在肅穆寂靜中互相低語。最後一次出現時,它與其他聲部交織在一起,構成對位,予人一種脫俗的安寧。因為察覺到這種變化,我們離此曲更近了一步,更能感受它對人神關係的昇華體現。
Another example of a shift in our approach is the Scherzo movement of Op. 135. Marked Vivace by Beethoven, it always excited us with all its oddities: the constantly returning and totally out-of-place unison E flat (the quartet's "other" Es muß sein), the sudden modulations revving up the manic gear leading to the wild leaps in the first violin against the mechanical repetition of a short five-note motif in the lower strings, the hilarious descent – a "sharp-by-sharp" deconstruction and the unison G sliding effortlessly into the recapitulation. It felt so exhilarating to charge through this surreal landscape without ever catching a breath. On our recent return to it we found the metronome marking which Beethoven dictated to Karl Holz, his close friend and the second violinist of the Schuppanzigh Quartet. It's unbelievably slow! While following it to the letter seems unimaginable to us, it does cast a different light on the piece. Vivace, after all, is a description of spirit rather than speed. Since then our vision of this movement has shifted towards a scene that is considerably more grounded and rustic in character… and closer perhaps to the quartet's enigmatic finale.
我們改弦更張的另一例子是作品135的詼諧曲樂章。貝多芬的演奏指示是「活潑的快板」,它的光怪陸離每每讓我們興奮無比:完全格格不入的同度降E音不斷回歸(這部作品「另一段」〈必需如此〉);突如其來的轉調讓躁狂的齒輪加速轉動後,第一小提琴如脫繮野馬般大跳,中低聲部在其下機械式地重複一個短小的五音動機;音樂歡快地蛻變,半音半音地往屬調方向解構,然後同度G音輕而易舉地將樂曲帶入再現部。每當踏過這片超現實之地時,我們都凝神屏息,亢奮無比。最近我們重拾此曲,發現了貝多芬向卡爾.賀爾茲──他的摯友,同時也是舒彭齊格四重奏的第二小提琴手──口述的節拍器速度,竟然慢得難以置信﹗雖然我們無法完全按照那個速度拉奏,但它無疑讓我們對這首作品有新的體會。畢竟「活潑的快板」形容的是一種精神,而不是速度。自此以後我們一改故轍,將這樂章詮釋為一個更合理、樸實的情景,讓它更貼近玄秘的最終樂章。
Our four lifetimes are not enough to probe the depths of these sixteen musical wonders. No other composer takes possession of us to such an extent. Beethoven is rude and impudent, and he continues to reveal breathtaking new horizons before us. He put everything he inherited in question in order to discover a new freedom of expression, removed from all dogmas, taking nothing for granted. His language, while rooted deeply in the traditions of the past, is a beacon of modernity – the new age in which man is alone.
我們四人加起來的閱歷,都不足以讓我們透達這十六個音樂奇跡的底蘊。沒有其他作曲家能如此佔據我們的靈魂。貝多芬的音樂粗野放肆,且不斷讓我們大開眼界。他質疑所有前人遺留之物,發掘新的表達自由,摒棄所有教條,破除一切成見。他的音樂語言雖深深植根於過去的傳統,但同時也是現代性的燈塔,在只有人類的新時代,為我們引航。
The question we are facing is, therefore, not so much whether Beethoven remains relevant to us, but whether we are keeping up with him.
因此,我們面對的問題不是貝多芬有否與我們脫節,而是我們是否能跟上他的步伐。
翻譯:周敏盈(香港大學音樂系碩士,普林斯頓大學音樂學博士候選人)