Click To Enlarge
Lifschitz's Beethoven Cycle trailer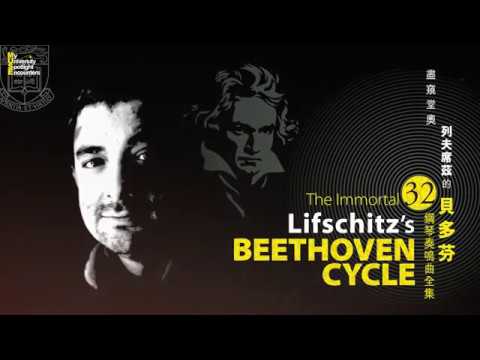 The Immortal 32: Lifschitz's Beethoven Cycle Programme II
盡窺堂奧:列夫席茲的貝多芬鋼琴奏鳴曲 II
Grand Hall
Lee Shau Kee Lecture Centre
Centennial Campus
The University of Hong Kong

Tickets
$220
Book 3-5 concerts - save 20%
Book 6-7 concerts - save 30%
Book 8 concerts - save 40%
HKU Discounts: Students $50 | Staff 15% off
Valid HKU student / staff card required upon purchase
at URBTIX outlets and entry to venue
Concession tickets are also available. Discounts cannot
be combined.

Programme
Piano Sonata No. 5 in C minor, Op. 10, No. 1
Piano Sonata No. 6 in F major, Op. 10, No. 2
Piano Sonata No. 7 in D major, Op. 10, No. 3
Piano Sonata No. 8 in C minor, Op. 13, 'Pathétique'
There is a FREE 'Music in Words' talk ahead of this concert at 6:30pm.

Composed in 1798, the set of Op. 10 is multifaceted in character: drama, lyricism and humour. Many of its dramatic features prefigure those of 'Pathétique' (Op. 13), which yet transcends the drama of Op. 10 into one of tragedy.
---
For ages 6+

Approximately 1.5 hours with an intermission

Guests are advised to arrive punctually.

No latecomers will be admitted until a suitable break in the programme.

Programmes and artists are subject to change.
Presented by
Supported by
2017-18 MUSE
Season Brochure